Welcome artists and writers! You're at 'The Complete CDD Collectors Cat-alog' project information page. :) Updated 10/07/08
As most Cats Don't Dance fans know, there was no marketing blitz when the movie came out. No line of toys by Mattel, no speciality plush by Applause, no happy CDD motif tees in the Warner Studio stores ( even the stores are extinct now). The only public merchandise ever created were the Subway kids' meal toys. I say this just wasn't fair and in answer to the this oversight we are going to make our OWN catalog of Cats Don't Dance dream merchandise. A parody of online specialty catalogs that we're all so fond of. :)
This project had originally been slated for completion on 12/06, but I was unable to complete it, although the people I recruited at the time did, bless them. However, I will not let this project die, but will instead extend it to the entire year. This one of those kind of projects where quantity and quality count, so now .... THE DEADLINE FOR ALL SUBMISSIONS is DEC.10 2008. I'm shooting for a December 20th completion date. Just in time to amuse last minute 2008 hollyday shoppers.
To those who are members of yahoo's catsdontdance_II group and Deviant Art, DO NOT post your contributions there for pick up. Please send them directly to me, Shelley at catsdontdance@comcast.net
Here's jump points to other areas this page: Artists & Writers tech info Sign up list
---
Here's the type of layout I want to use for our online catalog PARODY. Apologies to Elephant's Trunk whose site I victimized for example.<:) I scratched out the search function since that's beyond my web capabilities and also the shopping cart ( no need for one since this is make believe after all).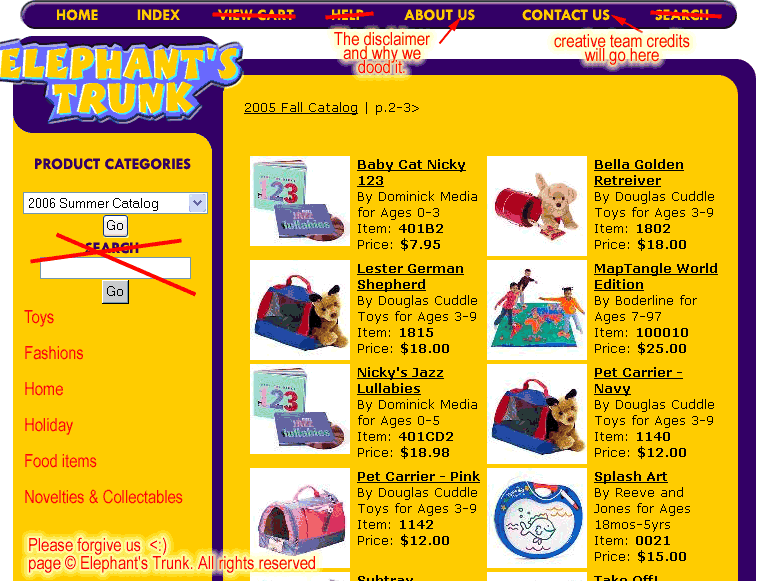 From each thumb, the item page will look something like this. The quantity/ add to cart buttons will be omitted.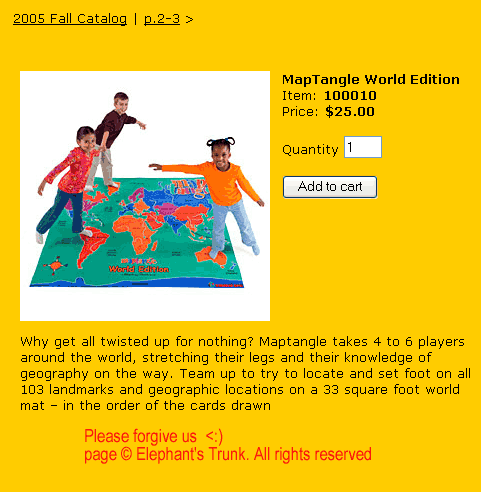 Content & guidelines:
Since this is a fantasy catalog, the only limit is your imagination, just remember the premise is to parody real world catalogs in use today. Not for a world of toons, or like a vintage Sears catalog. The approach is entirely up to you. It can be serious or as silly as you wish, for kids of all ages (0-99 yrs), and from any time from 1940- present day. Yes, you can think vintage toys and the like. The only restrictions are ONLY CATS DON'T DANCE CHARACTERS can be featured on these items, and I don't mean just the main characters, supporting characters and locations. NO ADULT items will be allowed, period.
The CDD items will fall into the following catagories:
Toys - from plush to plastic, action figures to games, puppets to puzzles..anything that a kid would play with and from any time from 1940 on. Yes, you can think vintage as well as modern.
Fantasy fashions.- cartoon tees feature every toon from Jack Skellington to the Simpsons, so why not cook up so kickass CDD motifs? Fashion isn't limited to tshirts either..so be creative with your couture.
Home and Electronics-.any CDD item that has some use..like dishware, fabrics, home dec items like bath sets, bedroom linens, pillows, rugs.paintings on black velvet, .etc. Paper goods & small appliances will also be in this catagory. Electronics I just added in today, since I'm sure somebody will want to share their custom cel phone cover or boombox, right?
Holiday - ANY type of item that is tied to a holiday..Halloween, Christmas, Easter..etc. Things like Costumes, ornaments and wrapping paper fall into this catagory.
Food products- Pretty self explainitory. Could be candies, cakes, chef boyardee, cereal, fruit roll ups, pez..etc.
Novelties - items that just..are, for enjoyment and that don't quite fit in the other categories..;) Figurines, car stickers, bobbleheads, collectable type stuff like plates, plaques, car items..etc.
And to amuse the evil, ...there's 'Merchandising Misses'. Merchandising ideas that just didn't fly. This would be for 'failed pitches'...stuff that'd make you go..good grief, what were they thinking? Pitches must include both visuals and written explanation of why it was a miss. Just remember you don't need to be lewd to make it funny. This would be the sorta behind the scenes bit of the project. :)
So much for the ideas..on to production part. Here's what we need from you.
Artists:
There has to be visuals of catalog items, and the complexity of it depends how much time you wanna put in. Visuals can be drawn images, photo and art image manipulations, 3D renders, or photographs of mock-ups. Whichever method you choose, the primary goal is to make clear what the item is and appeal as the secondary. Just like a real catalog, we wanna sell the idea. If at any stage you have questions, PUH_LEASE ask, - it may save us both time and effort. ;)
Technical info: ALL images should be no smaller than 600 pixels x 800 pixels (proportionally larger is fine too) and have a plain white background. There can be exceptions to this as long as the final image fits size requirements. You must ink and if at all possible, color your drawn images. . If your item has multiple pieces and you would like me to composite them to fit the space, please send them as separate files.
If you use digital photos, please use the medium setting for the sake of quality and try to set your mock up against a well lighted, solid background so it can be more easily be photo manipped by me later on.
File formats- This applies to ALL images. Acceptable file formats for art are : .gif, .jpg, .tif, .png, .bmp.
Please send all material & questions to me, Shelley at catsdontdance@comcast.net
Writers:
Somebody has to write those catchy descriptions for each items along with their stats and prices. I think I can get by with 2 additional writers. I will dole out who's writing what unless preferences are expressed. You can parody the real thing to your hearts content. Lampoon brand names and the writing style...just keep it short, sweet and somewhat informative as in the item page example above. <:) Writers may also want to team wtih an artist to create an item. especially for those 'Merchandising misses'.
File formats: All written material must be sent as .doc , .rtf, or cut and pasted within an email. Please do not use specialty fonts. Send all contributions to Shelley at catsdontdance@comcast.net
Resources:
Our culture is swimming in advertising so a trip to the mall or an hour of Sat. morning tv should get you started.
If you need visual resources, the whole of the CDD modelsheets are online for you to use at:
http://www.cdd4ever.com/Backlot03/ProductionArt.htm
There's also a lot of CDD screencaptures at Tim B's CDD site:
http://www.toonguru.com/CDD/screencaps.htm
For very rudimentary 3D ( good for package design perspective), you might try Google's 3D SketchUp. It's free and simple to use, - which were key features for the likes of me. <:)
For photo manipulation/digital art - Try Gimp. It's a photoshop clone, works on Mac. Win & Linux and it's FREE!!
For Stock Photos - Since we aren't REALLY selling anything I doubt Corbis or Stok.xchng will get on our case. Just type in some keywords to find tons of pics of people, objects..etc.
If there's anything else you need for resources, let me know and I'll try to help.
Info to include with your contribution:
Please include the following information along with your art or written submission.
1. Your name or the alias you wished to be credited as.
2. If you would like to have a link with your credits, please send the url or email address you wish to use. The url can be to online gallery of your work like DA, a personal website, LJ or a blog. Please..no adult sites.

Still with me? Then just email me at catsdontdance@comcast.net and I'll add you to the roster. When you sign up as a participant you'll be added to the project emailing list. I've found this is the best way to check in and distribute information to the creative team, so please have an email that you check regularly. I WILL NOT CONTACT YOU VIA DEVIANT ART COMMENTS OR VIA IMs, although if you insist I can email you solo. The list thing just saves me time and lessens the chance of you being missed on updates. Many thanks to those people who've already contributed! As for the rest of us, it's time to start our engines... :)
Shelley Pleger
Below are the contributors as of 12/0/6
Artist sign up is open

| | | | |
| --- | --- | --- | --- |
| Artists | CDD item | want writer? | work stage |
| Shelley Pleger | Lil Ark Angel playset | I'll do it | WIP |
| Shelley Pleger | Cats Don't Dance Monopoly! | I'll do it | WIP |
| Shelley Pleger | tshirt design - Max :D | I'll do it | WIP |
| Al Fishbeck | CDD party paper goods | 1 | DONE |
| Jenn Morton | CDD bedroom decor | 1 | DONE |
| Mikala Green | sleepwear | 1 | DONE |
| J Morgan | CDD Feldercraster - home electronics :) | did it himself | DONE |
| Fishbeck | Sawyer plush! | t | DONE |
| B Harris | Masks & who knows what else | t | DONE |
| t | tt | t | t |
| t | t | 1t | 1t |

Writer sign up is open

| | | | |
| --- | --- | --- | --- |
| SGC | none assigned yet | | |
| M. Rogers | same as above | | |
| | | | |
| | | | |