Spotlight . . . . . . .
See which teams will burn the floor in our Photo gallery

Meet the Judges . . .
Who decides the fate of our dueling dance teams?

-writer SGC
Premiere Episode! . . . .
The cast of Cats Don't Dance team up with eight of Toondom's hottest celebrities in a Ballroom Dance showdown!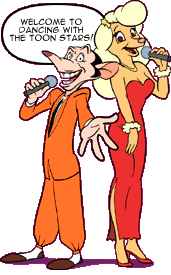 Join hosts Mylar and Brenda , as our judges and viewers decide which dance team will rule the dance floor!

Meet the Teams . . . .
Get the inside scoop on our professional dancers and their celebrity partners.

-writers SGC, Malcom, Drake
Learn to Dance . . . .
Want to be the next lord or lady of the dance? Here are some products to help you trip the light fantastik
- Toon style!