Downloads Designed for Printing
Unfortunately, Cats Don't Dance never had anything in print beyond two books. None of the fun stuff like cards, stickers or coloring books were ever made, - pretty sad, huh. This page has my efforts at filling in the gap. The images here are designed to work with the average inkjet, like Epson, HP, etc... The cards are large files because the resolutions are higher. This makes better prints without the low res 'jaggies'. For optimum results I recommend you print them from image editing or card making software.
Please note that these are NOT licensed art images, and are only for your personal use. Please do not distribute elsewhere on the net and absolutely DO NOT SELL THEM, as the characters are copyrighted to Warner Bros.
Enough said, hope you enjoy. :)
---
Cats Don't Dance Christmas Gift Tags
These are Christmas gift tags designed to print on 8.5 x 11 in. sticker paper or card stock. I used Avery brand full sheet shipping labels - product #8165 which I got at a local Staples office supply store for stickers and the colors came out very nicely with no show through. Printing tip - do not have 'scale to paper' checkboxed when printing in Acrobat.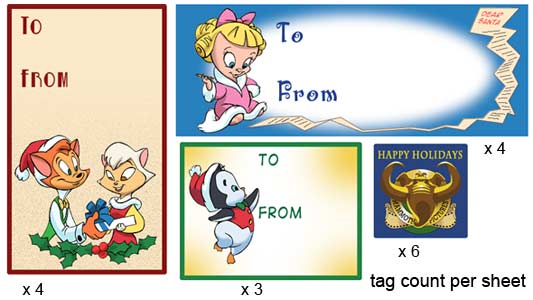 Cats Don't Dance Christmas Cards