Captions for 3/05 to 6/05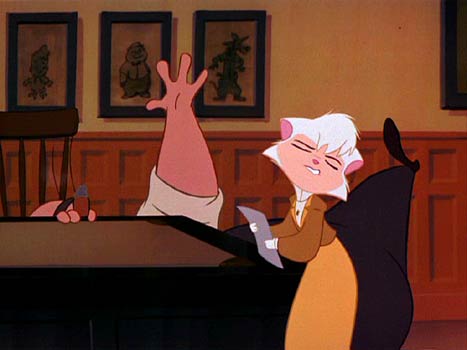 All Cats Don't Dance images © W.B.
Farley: This script stinks!
Sawyer: This isn't the only thing, Farley. Change your socks, won't you?!
-Primus One
"Farley -- your puppet show just doesn't work without the sock puppets!"
- J.P.
1.Sawyer: Oh geez, he's had another night on the town...

2.Sawyer: Yikes! I thought I picked up that banana peel!

3.Farley: Aha! MISS SAWYER! I thought I said no gum chewing in the office!!
Sawyer: I'm busted...
-Shelley
Caption: I wonder how many fart jokes this one's going
to get.

-WL
1. "Just because the name is 'Right Guard' doesn't mean you can't use
it on the left side, boss."

2. Sawyer's rendition of "The Low-Fiber Soprano" proved too much for
Farley Wink's delicate constitution.

3. Farley's attempts at breakdancing were painful to watch at best.

-MMM-
back to CDD Candid Captions